How to Install a New Snow Blower Belt
Improve performance with a simple belt change
Time
Complexity
Cost
Introduction
Snowblower belts start to wear out after 5 to 7 years, and should be replaced. You can save money by doing the job yourself. Here's an overview of the procedure.
Tools Required
Adjustable wrench
Rags
Socket/ratchet set
Wrench set
Materials Required
Winter means clearing snow off the driveways and sidewalks. Sure, it's not the most enjoyable part of the season, but it is necessary to keep those areas clear. If your space is small enough, you can probably clear it off with a snow shovel, but if you have a lot of ground to cover, or if you live in a place where it snows regularly, the best option might be to use a snow blower. It helps make snow removal easier, especially if you took the time to winterize your driveway and sidewalks.
But having a snow blower, like any piece of outdoor power equipment, requires a little maintenance from time to time to optimize its performance and keep it running for a long time.
If you haven't changed the belts on your two-stage snow blower since the day you bought it, do it now. Factory belts typically last about five to seven years, depending on how hard you work your snow blower each year.
Don't even think about replacing them with V-belts from the auto parts store. Even though they're cheaper, you'll barely get one season out of them—they're just not heavy-duty enough. Get genuine factory belts from the dealer or online. You'll need your snow blower's make and model number and the engine brand and model number.
The belt removal/replacement procedures are different for each make and model, so refer to your owner's manual. If you don't have yours, try downloading a copy from the manufacturer's website.
If your machine is causing trouble, then learn these tips to fix a snow blower that won't start.
How to Replace a Snow Blower Belt
Project step-by-step (3)
Step 1
Remove the Upper Belt Guard
Remove the upper belt guard so you can get to the top pulleys. Use a 12-in. extension bar, ratchet and socket.
With the cover off, inspect the condition of the belts. If you see cracks or cuts anywhere on the belt, shiny glazing along the sides, or fraying, it's time to replace them.
Family HandymanFamily Handyman
Step 2
Loosen the Retainer Bars and Rollers
Most two-stage machines have belt retainer bars and idler/tensioner rollers that have to be loosened before you can get the belts off.
Slack off the belt tension by prying the tensioning rollers back, removing the tension spring or loosening the tension mechanism. Then slip the belts off the drive pulleys and wiggle them out.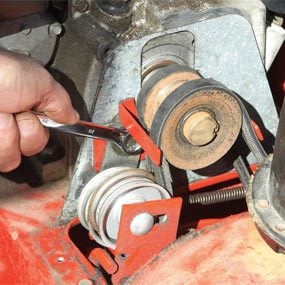 Family Handyman
Step 3
Install the New Snow Blower Belt
Next, tip the entire machine up, but before you do that, make sure the gas tank is empty. With the machine tilted up, you can remove the bottom access plate. Then, slide each belt out, paying attention to which belt fits on which pulley. Clean the pulleys once the old belt is off of them. Reverse the procedure to thread the new belts into place.
Family Handyman
Originally Published: November 27, 2018